What if we tried this?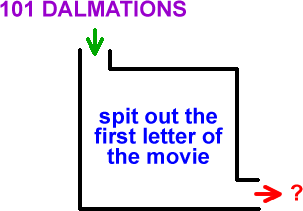 Hmm... 101 Dalmations starts with a number, not a letter...  So, we can't even put it in the box!
(Think about it...  Where would they have this movie at the video store?  Before the A's!)
Here are some official math terms:
The stuff that goes IN the box (the INPUT)
is called the DOMAIN.
The stuff that spits OUT of the box (the OUTPUT)
is called the RANGE.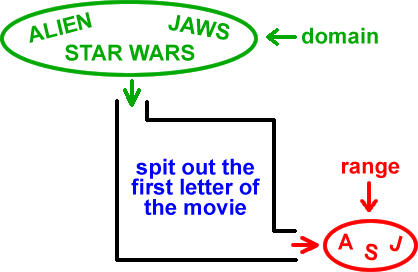 Domain guys go in...  Range guys spit out.
(If you forget the order, it's alphabetical D

R.)
So, for this box...
domain = all movies that start with a letter
(101 Dalmations is not in the domain.)
range = the alphabet
And, yes, there are movies for each letter.  Here are some for the weird letters:
Q  =  Queen Elizabeth (art film)
 X  =  Xanadu (bad disco movie)
   Z  =  Zulu Warriors (pure action!)